Click on the prices displayed below to view our offers. Please be patient while results are returned. It may take up to 30 seconds.
Please note, prices were updated on May 08, 2021 at 08:19. For up-to-date prices, click through to the offer results.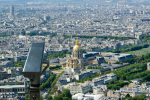 When it comes to city breaks, wherever you go, you can expect a great supply of entertainment all year round, making them ideal destinations for a long weekend.

One place that never sleeps is, of course, New York, where you can find a continuous source of activities. From world-famous musicals on Broadway to fine-dining restaurants and convenient cheap eateries, the city is also a major fashion hub.

Another popular place to go for a city break to remember is Paris. Known for its wealth of cultural attractions, there are also plenty of budget deals to choose from. With historical sites scattered around the French capital, this romantic destination also offers some of the world's best restaurants.

While popular places include Barcelona, Rome, Prague and Berlin to name a few, the likes of Dublin, Tallinn and Marrakesh are also great options.

Don't miss out - book your cosmopolitan adventure today using our search tool.
City Breaks