Unfortunately we weren't able to find information for this holiday.
The deal you are trying to view was provided by our partner Hot Deal Holidays and may still be available. Give them a call and they'll be more than happy to help you find your perfect holiday!
About Hot Deal Holidays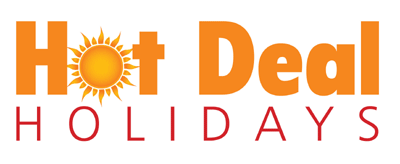 Telephone
0114 3060298
Opening Hours: 8am-11pm Daily
Financial Protection: ABTA J1693, ATOL 6153

Hot Deal Holidays is a large, independent travel agent with a huge range of flights, accommodation and ancillary services on offer, and is one of the UK's leading independent travel agents, carrying thousands of passengers annually. We pride ourselves in offering an efficient, courteous and helpful service to all our customers, at all times, and are committed to achieving and maintaining the highest level of quality at affordable prices. One of the reasons that we are able to maintain such great prices over such a wide-selection of holidays is because of our well-established relationships with the top, well-known tour operators and suppliers. We only work with AAA-rated suppliers and, together with our extensive experience in this area, you are guaranteed to have the best range of products and deals to choose from. Our extensive database allows us to access the very latest deals and early booking bargains, all available at low, low prices. We do not sell package holidays, but afford you the flexibility of selecting your own travel options and combinations, and offer a wide range of products acting as your travel agent; the choice is yours. Each product you book is a separate transaction, so you do not have to purchase more than one element if you do not wish to. For example, you may wish to book your own low-cost flight from one of the direct operators, and purchase only your accommodation with us. The price of each product does not change if you select more than one. FOR YOUR PROTECTION: Hot Deal Holidays is ABTA (Association of British Travel Agents) bonded so you are protected in the unlikely event of our insolvency. If your flight is with an ATOL (Air Travel Operator Licence) protected tour operator which becomes insolvent, you will be refunded in full by the CAA. Should one of your accommodation or transfer suppliers become insolvent, you will receive a full refund for that booking, whilst any other product you have booked will not be affected. You can then make a new booking with your refund so that your travel plans can go ahead.